Spend a day in the midst of a host of water sports activities and bring out the child in you. See the sea transform into a playground for you to enjoy some adventurous sports. The Arabian Sea has endowed Dubai with a shoreline that entices and captivates tourists with a number of activities both inside and out of the water! BookYachts has packages to suit every need and budget. Rush now!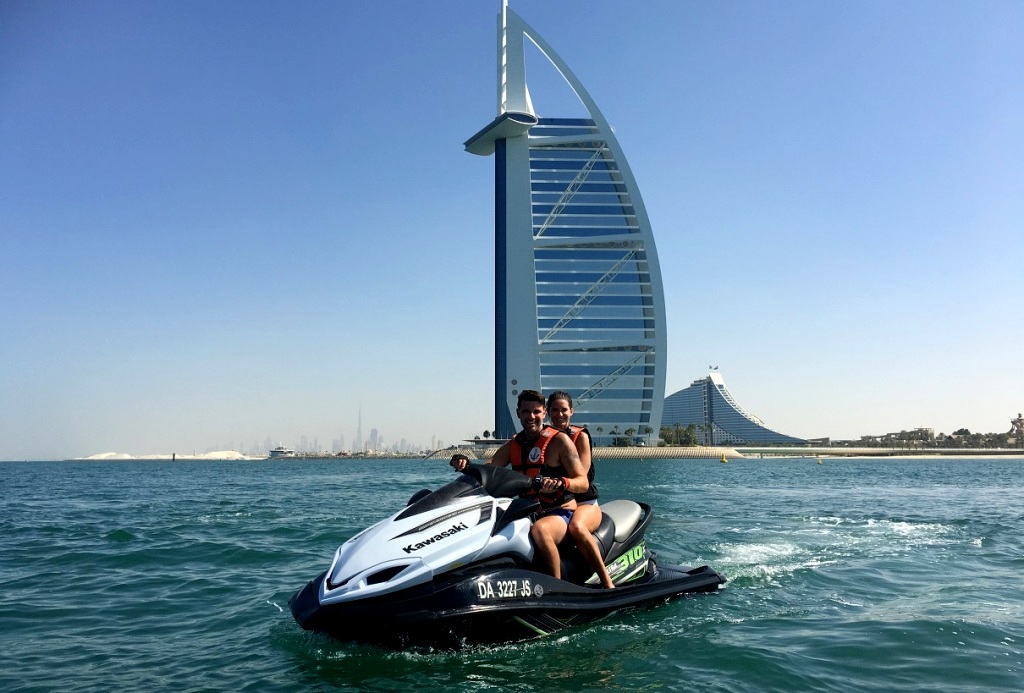 Jet-ski
Feel the wind in your hair as you wroom at 80kmph. Cruising through the Arabian Sea on a jet ski is a great way to experience the roughness and joy of the sea! The feel of water and the strength of it beneath you provide oodles of excitement! Show off your skiing skills and revel in the attention. The ride is for 1hr and is priced at AED800/hr. All the cruises are customizable to suit your needs.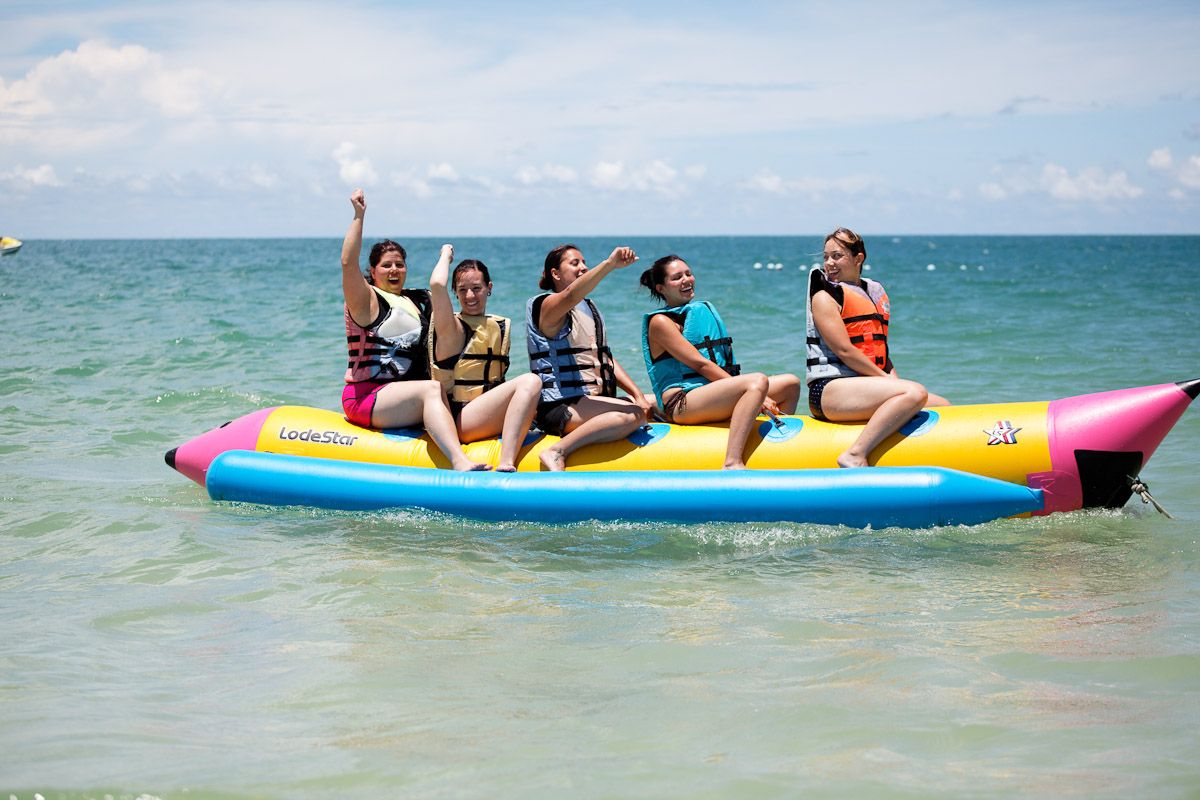 Banana Ride
It is definitely one of the most sought after water sports in Dubai, as it is a perfect mix of excitement and enjoyment. Guests are made to sit on a banana shaped boat, which is connected to a motor boat, letting you splash away in delight! Get it on with family and friends and give yourself a memory for a lifetime. This 1hr ride is priced at AED700 and is fully customizable depending on number of people.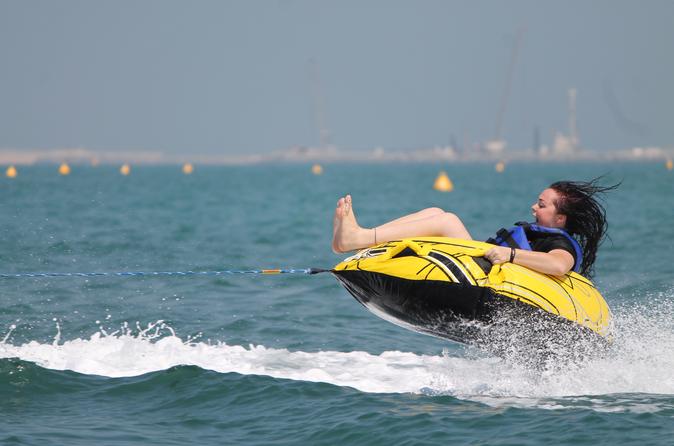 Donut Ride
The best ride for people who want a safe, but exciting ride. These inflatable donut shaped boats are perfect for groups with kids and families. Attached to a motor boat, this ride lets you experience the adventure and thrill while keeping you safe, thanks to its shape! Surely, you cannot stop in one round! Each ride is for 1hr, costing AED700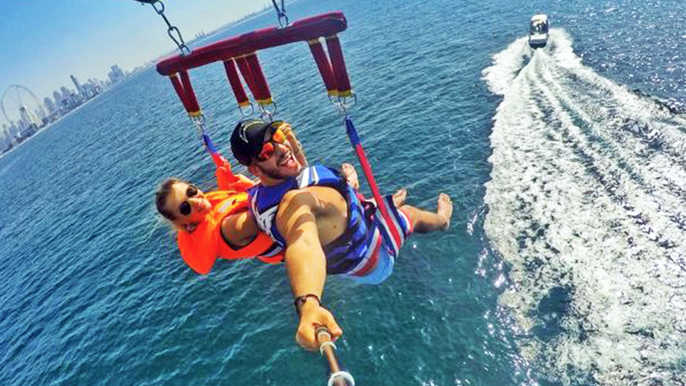 Parasailing
The preferred sport of those who likes the wind and water, this activity lets passengers attach themselves to a parachute, fastened to a motorboat, and gets them to rise above the water. The motorboat acts as the pull and lets guests fly like a bird. This adventure activity is priced at AED350/head and takes about 10 minutes.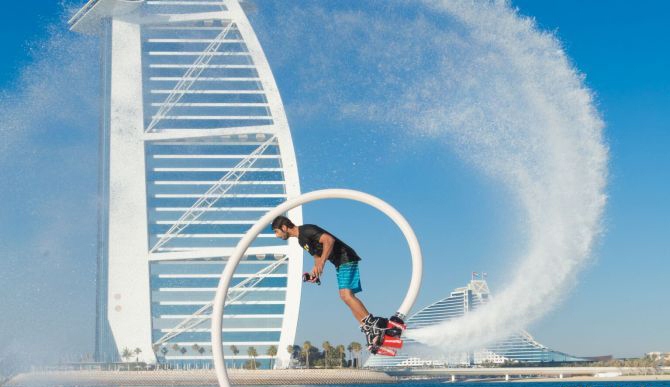 Flyboarding
The latest fad among water sports enthusiasts in Dubai, this sport allows people to experience flying above water. Guests are made to stand on a board that is connected by a long hose to a watercraft. On putting pressure to a pair of boots with jet nozzles underneath, this provides the required thrust for the rider to fly up in the air or to dive headlong through the water down. Although it sounds scary, this sport is adventurous but safe. The activity is priced at AED1260/hr for 3 people.
Grab a camera, get some friends and family, charter a yacht, hop on a luxurious boat and have a fun filled day that you are bound to remember for a long time. Experience the thrill of the water and the feeling of flying. Ride the waves or the wind and have an adrenaline packed time!